CHIC, which stands for Charming Italian Chef, is an association that includes some of the top chefs and pizza makers in the country.  A while back they initiated a program called Adotta uno Chef /Adopt a Chef designed to pair up a chefs and a blogger with the objective of letting readers get a peek into the life of a chef through day-to-day operations, recipes, and exclusive events.
I have the honor (and pleasure) of being matched up with Michelin starred chef Lino Scarallo of Palazzo Petrucci in Naples.
I have known Scarallo for about three years; in fact, we actually met for the first time in the kitchen of a CHIC event (here) in 2013.
I have already shared several dishes and videos of the chef's specialties on my blog such as here, here, and here…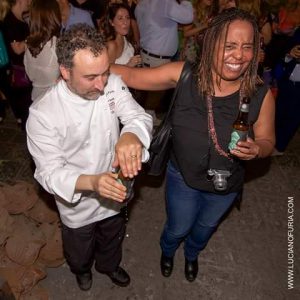 So what's next?  Follow along!!